Visit our winery in Provence
At Le Cannet-des-Maures, the estate has stood the test of time with panache, rising above the trials and tribulations of its hundreds of years of existence. This is perhaps due in no small part to the successive owners, whose reputation for generosity towards the local population has earned the Château the title of Saint.
Château Saint-Roux: an exceptional Provencal wine estate
Château Saint-Roux, a historic 15th-century farm, is now an authentic vineyard offering a wide range of activities. Here, you can enjoy a real 'slow life' through a multitude of educational and eco-responsible activities. Every experience has been designed to make Château Saint-Roux a place to live, share and get away from it all.
From the vegetable garden to
La Table
Homemade, fresh seasonal produce from our own garden or from local producers, discover responsible cooking with a single concept: from the garden to the plate. Our menus are always guided by what's available in the garden.
Wines from our organic winery
In addition to the vines, our wines are made using natural, local yeasts. They intensify the complexity of the aromas and give our wines a unique signature. In this way, we strive to reflect the expression of our terroir as faithfully as possible. This approach, which is exceptional in the Côtes de Provence PDO, is the hallmark of our wines.
The Château Saint-Roux Rosé reveals a complexity and structure that are rare in AOP Côtes de Provence. It is a reflection of the Saint-Roux terroir.
Friponne reflects the generosity and authenticity of the estate. This rosé wine from the Pays des Maures (IGP Maures) expresses freshness and suppleness.
Blended by us, the Le Pigeonnier cuvée reflects the Saint-Roux philosophy. It is available in rosé, red and white.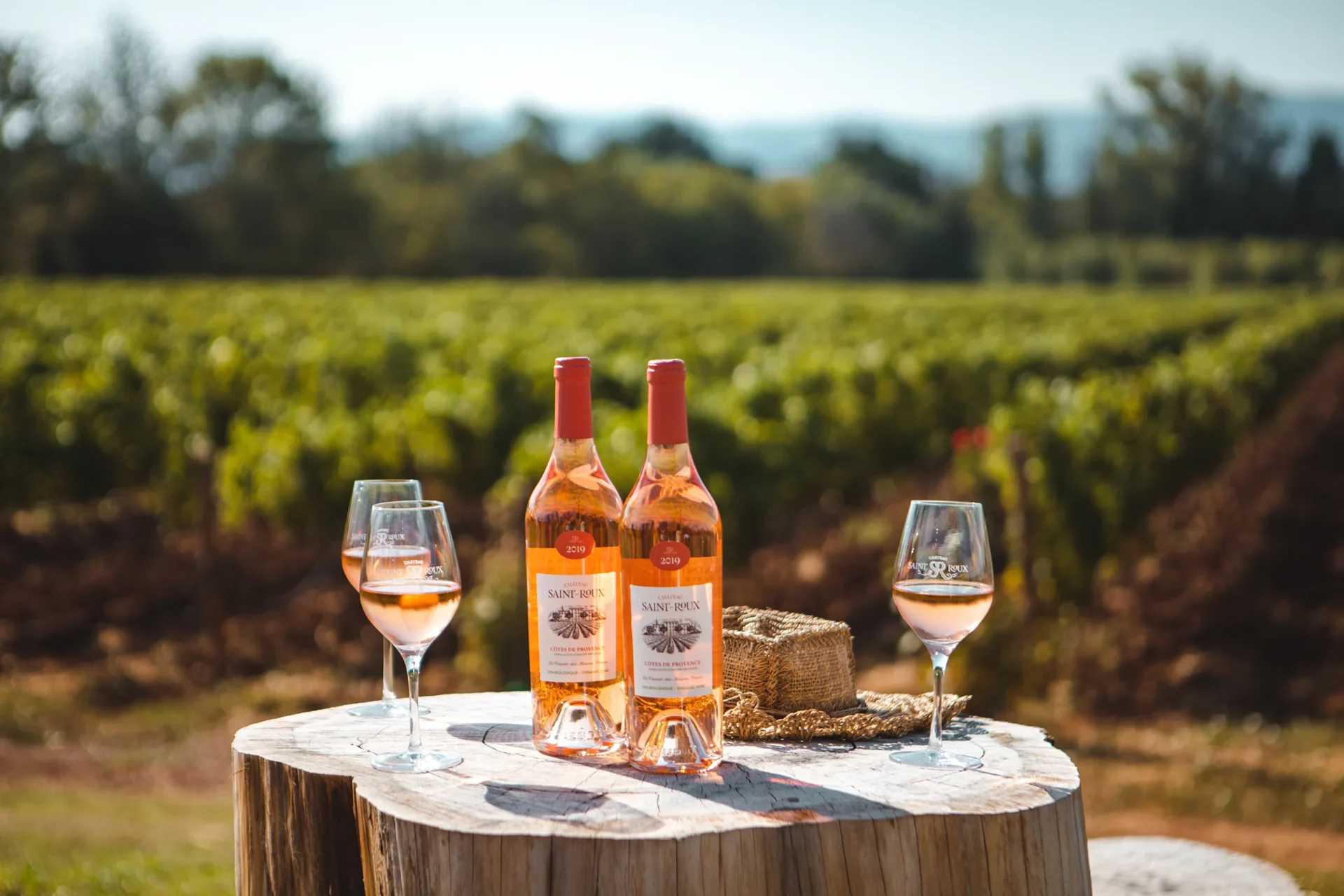 Practical information for visiting our winery in Provence
For an exceptional wine-tourism experience, the Château Saint-Roux cellar is open to informed visitors and amateurs alike. The approach and techniques applied on the estate are explained in an educational way, and can be complemented by a tasting session led by a sommelier or an expert adviser.
Visit the Château Saint-Roux tasting cellar
The ideal place to discover our wines on the terrace or by the fire. The shop is also a café where you can discover organic products from the estate and local producers.
Open 7/7 from 8am to 8pm
The Château Saint-Roux shop
Château Saint-Roux, its tasting cellar and its shop embody a real commitment to local know-how. The producers' shop offers a deliciously varied selection of vegetables from the kitchen garden, organic goat's cheese, home-made organic bread and focaccia baked in a wood-fired oven, and organic wines from the estate.
Visit our other wineries in Provence
Ultimate Provence
A chic, no-holds-barred experience at our 4* hotel & spa in the Var. Welcome to UP, a singular, urban vineyard designed by Humbert & Poyet. Events venue, hotel in Provence with Spa and pool, restaurant and bar, put down your bags and enjoy
Château des Bertrands
Located in Le Cannet-des-Maures, the Château des Bertrands welcomes you to its country house, surrounded by terraces and a large swimming pool with pool house. This rental villa is fully equipped for a peaceful stay in the heart of Provence. Available for weekly rental in July and August, or for a minimum of 2 nights the rest of the year.
Château de Berne
In the hinterland of Provence, in the heart of 515 hectares of nature, a small road winding through forest and olive groves leads you to Château de Berne, a 5-star Relais et Châteaux in Provence. The journey begins with the Château's different wines, all from the 150 hectares of organic vines. It continues with experiences based on nature and a certain idea of the art of living in Provence.