Visit our wine estate in Provence
Nestling in the heart of the Var area, the vineyard spans 99 acres of organically-grown vines and produces five organic rosé, red and white wines.
A genuine exception in the AOC Côtes-de-Provence terroir, Château Saint-Roux's commitment to the environment is now a regional benchmark.
The Château Saint Roux vineyard
Set at the edge of the Maures plain, Château Saint-Roux is planted with 99 acres of organically-grown vines (two-thirds AOP, one-third IGP).
Rich in iron and bauxite, the essential nutrients of our soil produce very aromatic wines.
Planted in a windy corridor, the vines are naturally protected from disease and therefore ideally suited to organic farming.
Our Provence wine discovery workshops
Whether you're enjoying an afternoon out or holiday in the country, Château Saint-Roux promises a delicious, holistic wine tourism experience, topped with the allure of a home-from-home welcome at an organic wine estate.
From tours of the garden, luscious vines, animal farm and vegetable garden, to chats with our gardener and growers, you'll be spoilt for choice when it comes to activities!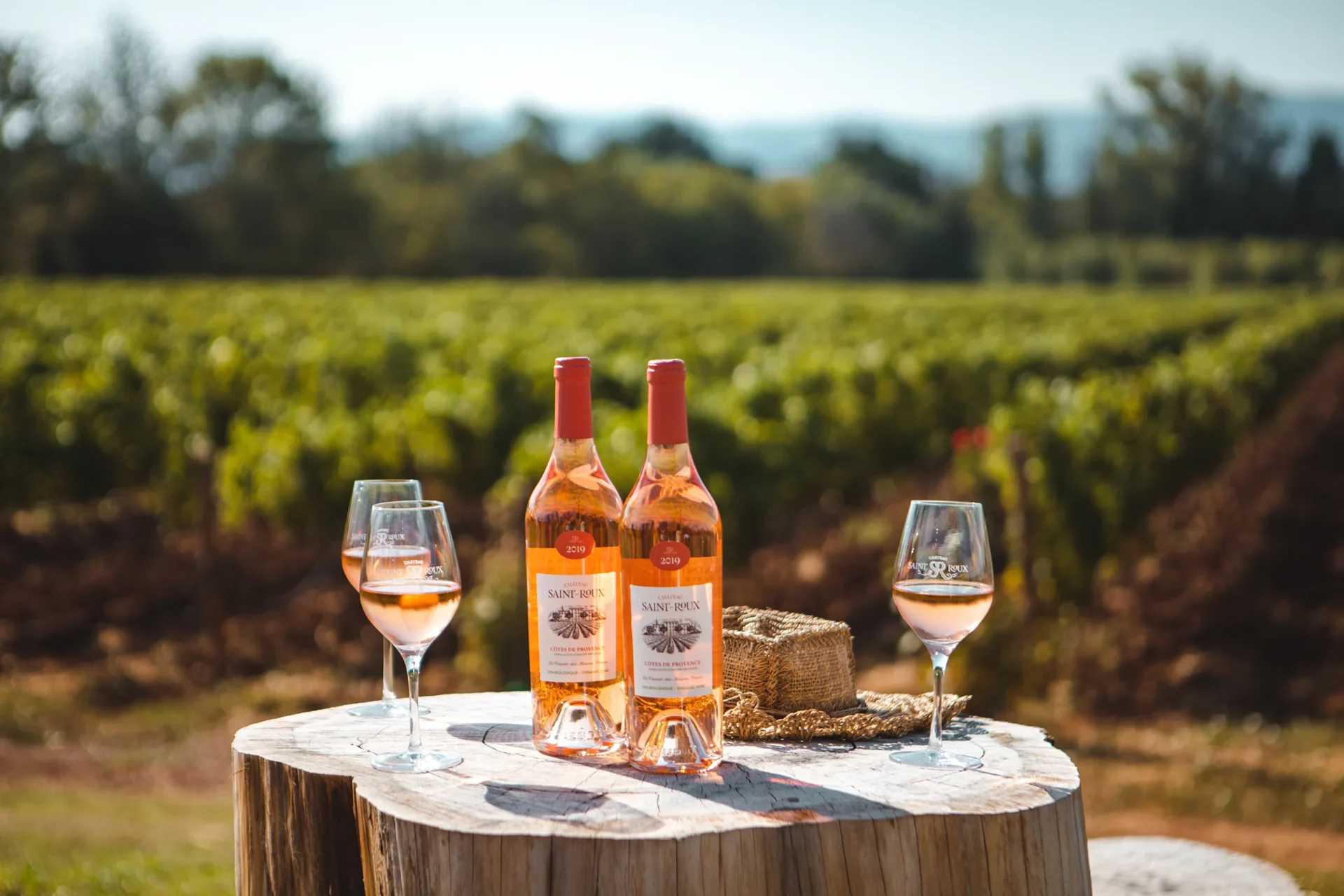 Château Saint-Roux, a moment out of time!
Our rooms with vineyard views
Refurbished in purest Provencal style, our rooms pay tribute to the glory and splendour of yesteryear with magnificent local materials and stone from the original farmhouse. These unique rooms feature a TV, wifi and bathroom with shower. Organic cotton sheets, old wood beams, fireplaces and a floor laid with traditional Provencal terracotta tiles… Elegance and authenticity reign at Château Saint-Roux. The historic charm of this 15th-century farmhouse is showcased against a backdrop of pure, profoundly rejuvenating virgin countryside. Take time to revel in the beauty every morning as you gaze out over the vines.
Château Saint-Roux Table d'Hôte restaurant
Committed to local, sustainable cuisine, Chef Guillaume Rigaudias creates his Provence-inspired menus according to the day's pickings from the vegetable garden and his latest inspirations. A unique world for lovers of fine fare.
Your wine tourism break at our other estates
Visit the Château de Berne wine estate
A 1,705-acre natural paradise, Château de Berne promises astonishing wine tourism experiences, including wine tasting and cellar tours, fine dining, a spa and hiking & mountain bike trails… The perfect gateway to the charms of Provence.
Ultimate Provence, and authentic and modern Provence wine estate
An astonishing high-design domain in the vines. Crafted by top architects, this ultra-modern vineyard offers a fun and trendy getaway off the beaten track, complete with on-site DJ and a relaxing terrace. A must-do!
Visit the Château des Bertrands wine estate
Set inside a Natura 2000 protected area, Château des Bertrands is a country escape par excellence, home to a reputed equestrian centre offering magical treks over the Maures plain, coupled with the promise of exceptional wines.